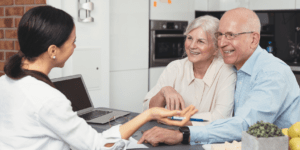 When it comes to planning for the future, blended families have some additional considerations in managing their estates. Some people assume that leaving assets to
Read More »
I used Elizabeth Perryman ("Lia") here for an estate probate matter. I highly recommend her. I was exceptionally happy with her reasonable cost, flexibility (willing to do everything over phone) and professionalism.
I have dealt with both Alex Johnson and James Eggert and I have been very pleased with both of them. They also have the best receptionist ever. I highly recommend this group to anyone.
Death brings so many things, questions that most don't even think about. After weeks of worrying and desperately trying to find probate help, this firm served me with courtesy, knowledge, and friendly service.
We want to take away the stress that comes from figuring out your loved one's probate.